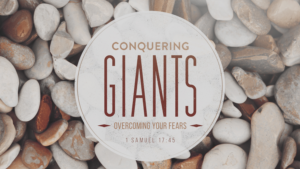 What do you perceive to be your greatest area of weakness? Would it be a financial issue, a health concern, a relationship problem, an issue at work or finding a job? Whatever your weakness, hold that thought in the back of your mind while you open up the Word of God to 1 Samuel 17, and listen to the following message by Pastor Anton. We invite you to also download the teaching notes along with this week's study, as they may be helpful to you. Consider the words of the Apostle Paul in his letter to the church in Corinth in response to him asking the Lord three times to remove a major weakness in his own life;
2 Corinthians 12:9 (NLT)
9 Each time he said,

"My grace is all you need. My power works best in weakness."

So now I am glad to boast about my weaknesses, so that the power of Christ can work through me.
We hope and trust that you will be encouraged by this message and challenged to take your next spiritual step this week.